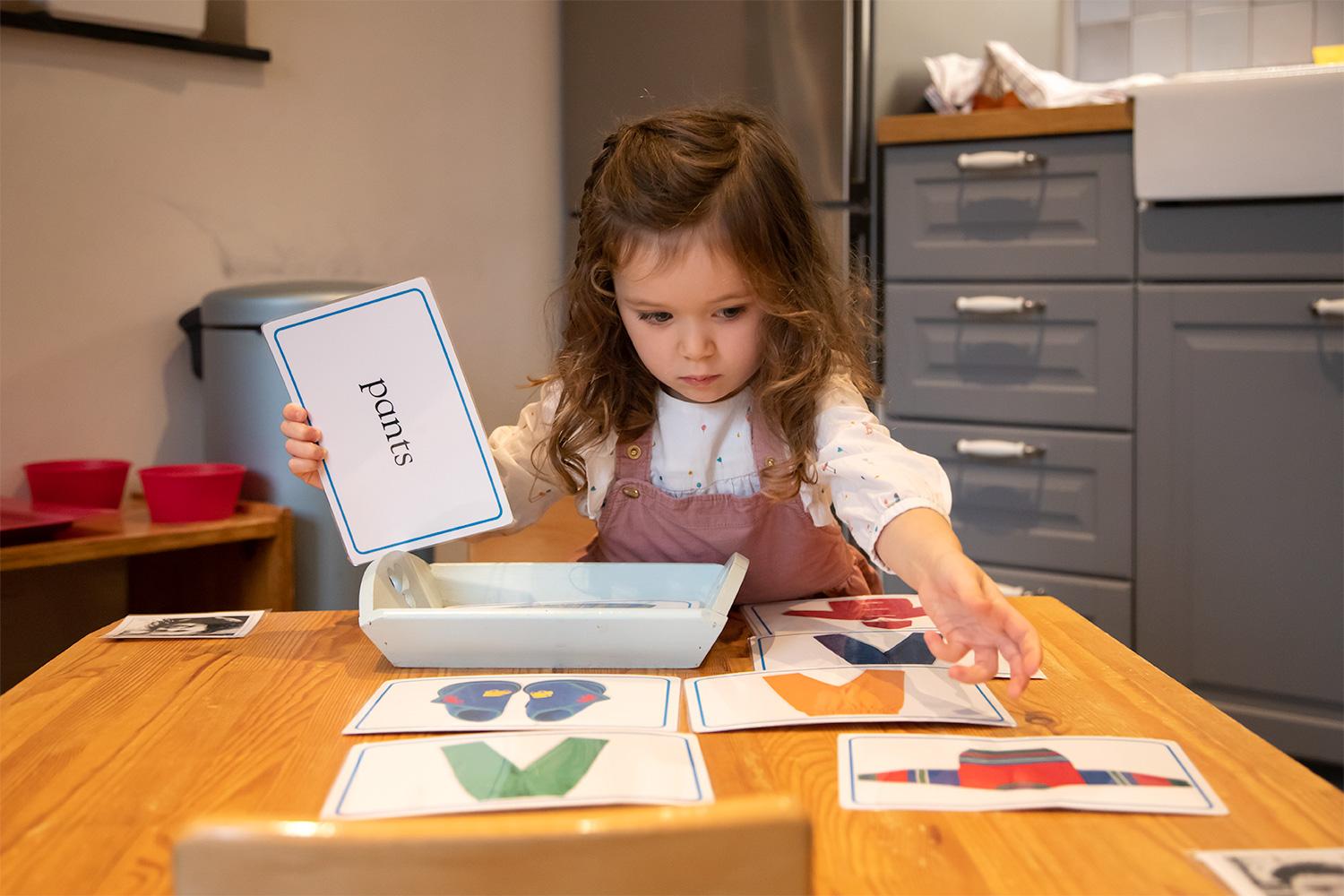 Bilingualism and Multilingualism
The International Montessori offers an environment rich in language and culture. In every classroom one can find twelve nationalities or more. The Team is also international, coming from a wide range of backgrounds. Nearly everyone is multi-lingual and this allows for many intercultural role models in the environment. Language facilitates understanding and brings people together.
Full-time Bilingual Learning Environments
A complete and consistent full-time bilingual English-French environment is offered to the children in the Toddler Community, Children's Houses and Primary sections. Each group is staffed by two teachers: one addressing the children in English whilst the other speaks French. Thus giving the opportunity to children from a young age onwards to absorb new language(s) as a whole. Due to the full-time exposure and the concrete nature of the daily activities, this approach to second language acquisition works particularly well in Montessori settings.
Young children absorb languages very fast and often understand the vocabulary used in their group within four months. Young children have an absorbent mind. Due to intense absorption of everything that surrounds them, they thrive well in a bilingual environment. Children learn languages 'effortlessly', as long as the same person speaks the same language to the child at all times, and the language is offered in a concrete, child-oriented manner.
In the Primary sections, language skills mature and the children become bilingual at a verbal and written level. The students progress by means of communication, reading, theatre, writing stories, spelling, working with specific language materials such as the Grammar Boxes and Logical Sentence Analysis & Construction and research. As the child progresses, the second language becomes integrated in the other subject areas.
Multi-Lingual Learning Environments
Students emerging from the Montessori Primary and attending the International Baccalaureate Programme are on their way to becoming completely multilingual. Subject lessons are generally given in one language as there is a specialist teacher per topic. Depending on the child's level, they speak and process information in several languages. Multilingualism becomes the norm. Teachers are also multi-lingual and are therefore in the position of exposing the children to this interchange of language use on a day-to-day basis. They role-model ease and flexibility.
In addition to English and French, students can choose Dutch, German and/or Spanish language lessons. Advice on the amount of languages to choose is given by the mentors. This depending on the student's background and previous exposure to second language learning. Students are encouraged to express themselves at an advanced level in several languages. By living and learning in an environment that is rich in language and simultaneously working within multi-age groups: openness to different cultures, habits, values and ideas becomes an automatism. This is an amazing concept, it seems so easy, and it is the foundation for international-mindedness.
Multilingualism has an extra bonus in that it assists the development of the logical mind. Being able to speak several languages means you have several 'answers' to any particular issue. Each answer has a slightly different connotation. As a result, the person refines their analytical capacities and abstract thinking abilities. What a great asset for the future!